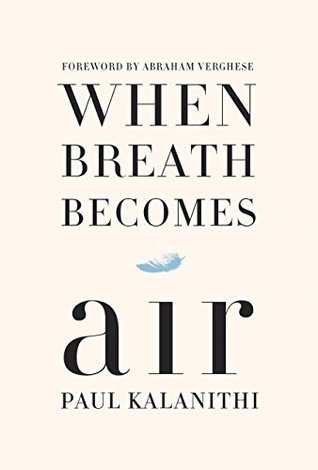 When Breath Becomes Air by Paul Kalanithi
Expected Publication: January 12, 2015 by Random House
Other work(s): N/A
Genres: Autobiography/Memoir
Pages: 256
Rating: 4/5, PG-13
---
At the age of thirty-six, on the verge of completing a decade's training as a neurosurgeon, Paul Kalanithi was diagnosed with inoperable lung cancer. One day he was a doctor treating the dying, the next he was a patient struggling to live.

When Breath Becomes Air chronicles Kalanithi's transformation from a medical student asking what makes a virtuous and meaningful life into a neurosurgeon working in the core of human identity – the brain – and finally into a patient and a new father.

What makes life worth living in the face of death? What do you do when when life is catastrophically interrupted? What does it mean to have a child as your own life fades away?

Paul Kalanithi died while working on this profoundly moving book, yet his words live on as a guide to us all. When Breath Becomes Air is a life-affirming reflection on facing our mortality and on the relationship between doctor and patient, from a gifted writer who became both.
An intensely thought-provoking, heart-rending memoir of another life ended too soon.
In When Breath Becomes Air, 36-year-old Paul Kalanithi, a budding neurosurgeon, eloquently reflects upon his life-long search for meaning and his attempts at a meaningful life, while facing a future made uncertain by terminal illness. Though lung cancer ultimately claimed his life, Kalanithi revealed that it did not claim his identity, his ambitions,… nor preoccupy all of his thoughts.
Instead, he sought out and accepted the help and support of family, friends, and colleagues, all the while considering how his emotions, actions, and decisions affected others–including his patients. He continually assessed and acted upon what mattered to him most, and let that guide how he spent the precious time that remained–inadvertently teaching us how to live. And he realistically and bravely faced and took charge of his life and death. And left for us, not simply an example to follow, but the encouragement to explore the depths of our own persona, to ask deeper questions of ourselves so that we, too, can bravely face the many transitions our lives. Including that from life to death, whenever that might occur. With confidence and peace of mind.
When Breath Becomes Air is a must-read for those entering the medical profession, yet its powerful messages can (and, perhaps, should) be considered by anyone and everyone. I, for one, truly appreciate that Kalanithi didn't just share with us how he died, but how he lived.
*I received a free copy of When Breath Becomes Air from Goodreads First Reads.*